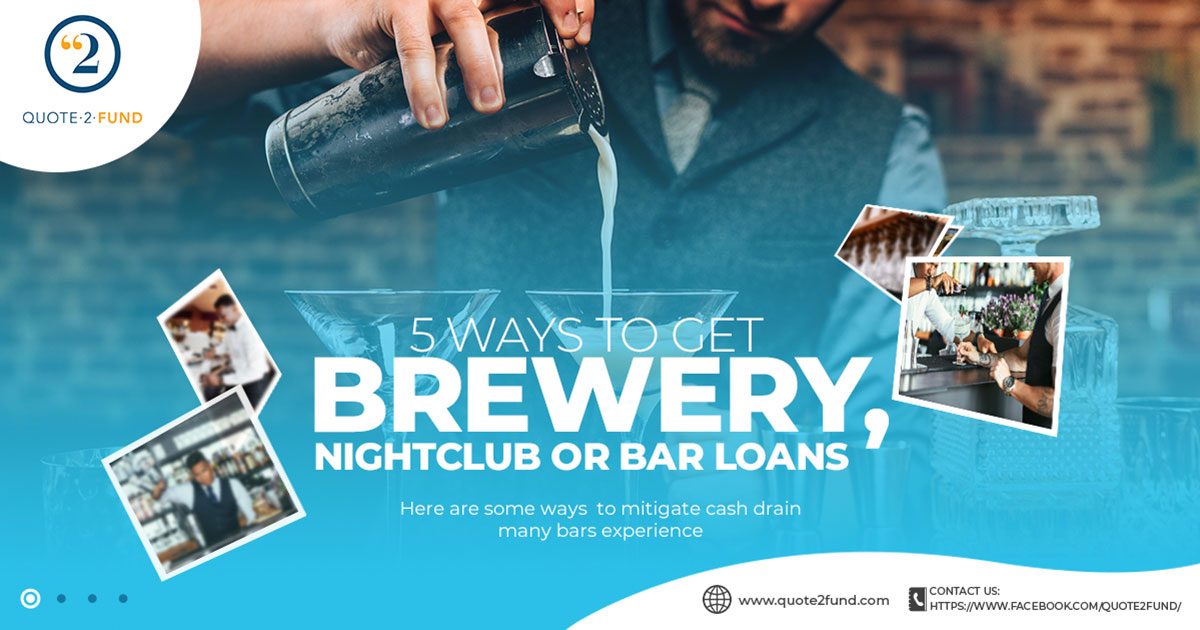 05 Jul

5 Ways to Get Brewery, Nightclub or Bar Loans

Do you own a nightclub, bar, or other libation-centered business?

Patrons love talking about how much money you're making… right?

While many of your customers may see the markups… the money going in…

…most don't realize the large amount of money going out…
Let's discuss how to mitigate the cash drain many bars experience….
1. Working Capital for Bars and Pubs

If you're like many bar or nightclub owners, you may have busy periods and slow periods of the year.
During the slow periods, you still have to pay for:
Payroll
Rent
Inventory
Power
etc.
Not having access to cash during these slower times can get you and your business into hot water.
It's not just during slow periods, either. Any cash-intensive business will often run into times where the inflows need to meet the outflows.
We offer our customers a variety of solutions that can make sense. This includes both long term and short term solutions.
A great solution for nightclub or bar loans can be a small business line of credit.
Lines of credit allow you to access money immediately when needed, and only pay fees on the money you use.
2. Equipment Leasing for Bars and Breweries, etc.

Did you know that virtually any non-consumable item in your business can be financed?
This includes signage, bar stools, glasses, taps – even silverware.
Many bar and pub owners don't realize this. Paying cash for these items can later lead to a shortfall.
When you are starting, expanding, or remodeling a business, often you may be able to finance every piece of equipment needed over several years and reap tax benefits along the way.
3. How To Get a Startup Loan for Your Pub or Brewery

Research from Restaurant Owner suggests that it costs between $125,000 and $850,000 for startup costs of most bar establishments.
Not having access to enough funding can keep many prospective bar owners from opening. More importantly, starting without enough funds can jeopardize the viability of your business.
Many programs exists to help startup bars, pubs and nightclubs. You can get money needed for equipment, working capital, and other key expenses.
That could mean helping you acquire an SBA loan. Other times it may involve helping to access proprietary programs tailored specifically to startup funding.
4. Commercial Real Estate Loans for Bar Establishments

Are you considering purchasing commercial property?
We do help many bars with commercial real estate funding.
Many bar owners seeking capital might find refinancing their current property might be a good option.
Notice the use of the word "might…"
Most companies that can refinance commercial real estate do not also do business loans.
And…
Most companies that do business loans cannot also refinance commercial real estate.
It can be hard to get good advice from someone who wants you to use the only solution they sell…
Our specialty is helping you discover a wide range of options. This allows you to decide for yourself which works best.
That can include real estate, equipment financing, lines of credit, or other options.
5. Bar Loans and Financing With Bad Credit

You will have less options when financing a bar or other drinking establishment than if your credit was good.
Bad credit can relate to a low personal FICO score, or it can relate to other issues.
If your FICO score is below 620 you'll find rates for financing considerably higher than with better credit. Additionally, we sometimes encounter borrowers with a decent credit score, but with limited financing options due to challenges such as a recent bankruptcy or tax lien.
Getting bar loans with a low FICO is not impossible, but there are some challenges.
If you are trying to start a business with poor credit, you will usually only be approved for financing if you can offer significant collateral or a very strong cosigner.
However, if your business is established the process is much easier. If you've been generating revenue (sales) for at least 3 months, there are typically some options available to you, though which options exist and what sort of rates you'd encounter depends on:
The depth of any credit challenges
The amount of time you've been operating
Your monthly revenues
Your business profitability
We will consult with you to find the best options available to you when you need financing…
Conclusion:
There are many, many ways to finance a nightclub, brewery or bar.
We work with over 1,000 different money sources so if we can't find a good solution to your problem, it likely doesn't exist.
YOU MAY CALL US AT 619-795-3123 OR CLICK ON THE BOX BELOW TO GET STARTED.