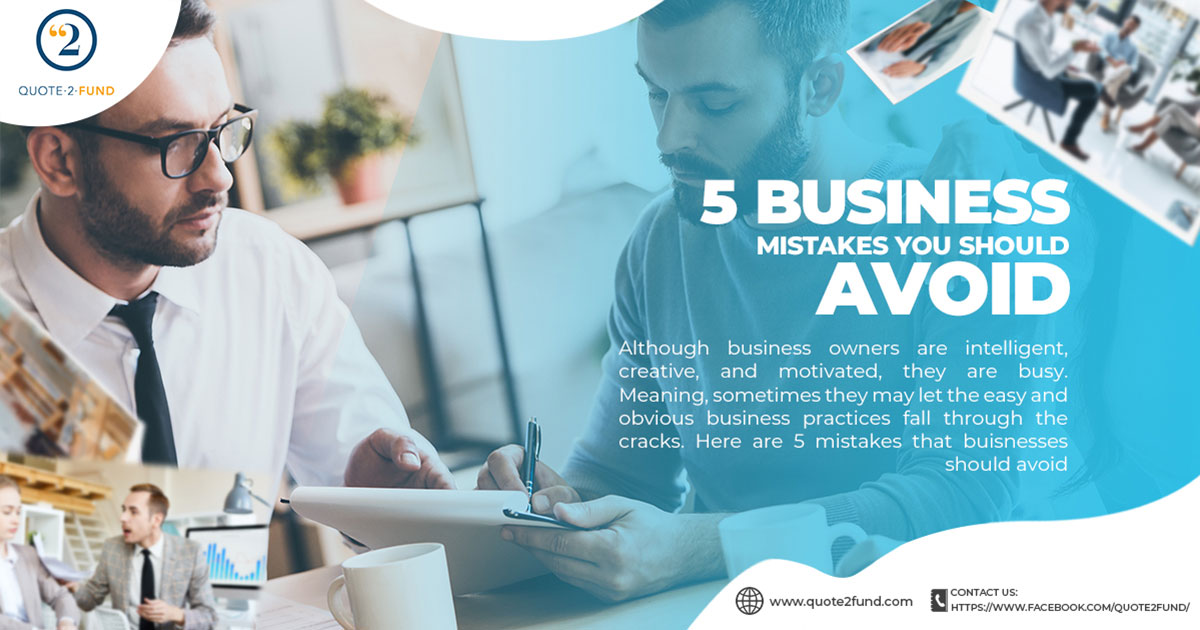 28 Jun

5 Business Mistakes You Should Avoid

Most successful business owners have a plan of attack when it comes to doing business. They have a strategy to get their business to the next step and they are usually willing to do whatever it takes. Determined business owners are constantly thinking about their business. From dawn until dusk and all hours in between, ideas float through their head. They analyze the approach to their current problems and contemplate how they could solve their future challenges. Their business is always on the mind.

Although business owners are intelligent, creative, and motivated, they are busy. Meaning, sometimes they may let the easy and obvious business practices fall through the cracks.
Below is a list of business mistakes you should avoid.
1. Not allowing a plan or strategy enough time to work. Cutting a plan or strategies' time is easy to do if you're not seeing results from it. Obviously, business owners want to make the most of their time, but instant gratification is the devil when it comes to your business! Take for example, if you implement a strategy such as placing new items on your restaurants' breakfast menu. Then, you see how customers respond to the items for 3 weeks. If after the 3 weeks are over, you find that customers are not responding well to the new items, you decide to take them off the menu. However, it takes longer than you may think for customers to respond to changes. The point is, allow adequate time for changes to be seen by customers and employees. Don't expect to see results overnight.
2. Not listening/responding to customers. Every business should have a YELP page and other active social media websites. Customers are likely to leave comments about their recent purchases on these websites. Make sure you respond to these, whether they are negative or positive. And actually, most businesses have reviews they don't know about on the Better Business Bureau website, (BBB.org). Engage with your customers through these outlets on a regular basis.
3. Resisting to borrow money, even if you really need to. All businesses need to borrow at some point. Now that the economy is turning around, loans should be more readily available. If your business is in need of additional working capital to improve, update, purchase inventory, relocate or make any other large changes, there is no better time than the present. Chances are the need is not going to go away, it will begin to make other things worse. However, borrow only what you need and can afford.
4. Failing to remember to plan for the worst. Although it's hard to think about, preparing for worst-case scenarios is important. As a business owner, be sure that your business has proper insurance such as natural disaster insurance. This could help pay for damage done by hurricanes, tornadoes, blizzards, earthquakes, and other potential natural disasters, depending on the area you live in. Nancy Harris, a writer for an online business website called Financial Post, says there are a few more things that you as a business owner should have prepared as well. She says, "About 57% of small businesses do not have an exit strategy. Although you may think this step is not essential to your business, defining an exit strategy may save you trouble in case of an unforeseeable situation." She reminds business owners to, "Invest in prevention, whether it is the installation of a security system or a waterproof safe, investing now may save you thousands if something were to happen."
5. Forgetting about your employees. Unless you are running the business by yourself, you have employees that help with day-to-day operating activities. A lot of business owners are so used to employees taking care of daily activities that they forget just how much they do for the business. Understand that the work environment can directly affect employee morale and if your employees aren't happy, chances are their productivity will be significantly lower.
Running a successful business is hard work in any industry. However, by avoiding these five business mistakes, you'll help your business succeed.