12 Jan

More Calls for Transparency, Fair Practices in Small Business Lending

Posted at 19:56h

in

Press

As lending from big banks to small businesses has plummeted (down 38% since 2006), alternative lenders have poured into the void to help entrepreneurs access growth capital. These lenders should be serving small businesses with integrity. Many are. Unfortunately, there are still signs of  deception, misdirection and predatory behavior.

Last month, Quote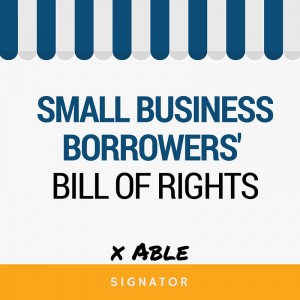 2 Fund  announced that it was joining a coalition of industry leaders committed to promoting responsible practice in the small business lending sector. This month, Able, which funds businesses through its collaborative lending platform, also announced that it would be adding its signature.
"We are thrilled to see that Quote 2 Fund platform partners like Able have joined us in signing the Small Business Borrowers Bill of Rights -​ and has activated its network of borrowers around it in a​ really exciting way." said Quote 2 Fund spokesperson Hezekiah Herrera.
Together with Able, Quote 2 Fund is calling on other major lenders and loan providers to affirm fair practices and transparency on behalf of business owners looking for honest capital and authentic partnership.
Has your lender signed the Bill of Rights?